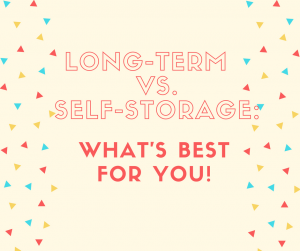 Considering putting some of your belongings in a storage unit, but don't know what options are best for you? There are different types of storage and figuring out the right one for you may seem like a long and tedious process. But, you're in luck, the experts at Atlantic Coast are here to help!
There are many factors to consider when picking a storage unit, but the most important to consider is time. You will need to ask yourself some questions before choosing a storage unit: How much access to your items will you need? What kind of budget are you on? What type of items are you storing? With answers in mind, we can further narrow down what type of unit is best for you. At Atlantic Coast, we only provide long-term storage units, but want to help you navigate information on your self-storage units as well. We provided a short guide detailing long-term and self-storage units. We researched it thoroughly, but dependent upon the provider, the self-storage unit information may vary.
Long-Term: The name seems to suggest it all, but this type of facility may be ideal for you and your wallet. The ideal candidate for long-term storage would be someone who has a minimum of 800 lbs of storage and who will not need to access their belongings on a regular basis. Customers who would need more than tri-yearly access should consider a self-storage unit.
Logistics for Atlantic Coast:
Unit Size: 7 ft x 7 ft x 5 ft
Accessibility: To gain access to your long-term storage unit, you must call and schedule an appointment during our hours of operation (Monday – Friday, 8 AM – 4:30 PM). With a friendly team like ours, calling to schedule an appointment will be like speaking to old friends rather than a company.
Price for Storage: $55/crate, fixed price and not taxed.
Price for Retrieval: $50/hr.
*Some long-term storage units will charge you a lower price for storing your belongings, but charge you a price, usually per hour, for time and labor retrieving your crate. Depending how many crates you have and how much you will need to access these items should be considered before you choose a storage facility. The price of a long-term facility may be cheaper in the long run because our prices are fixed and not taxed but the labor and retrieval cost should be factored in.
Self-Storage: Self-Storage units operate a little differently than long-term units. These units are more ideal for those who will be accessing it frequently and do not need help accessing items. The following information is typical of self-storage units, but may change dependent on the particular storage company you sign up with.
Logistics:
Unit Size: 7 ft x 7 ft x 5 ft*
Accessibility: Any time you would like*
Price for Storage: $70/unit, *
Price for Retrieval: If a self-storage, there should not be a cost associated with retrievals, since you have access to unit.*
When researching self-storage units, you may incur increased costs the longer you rent with the storage company. Be aware, before signing any paperwork, and ask what the price of your storage unit will be for different increments of time (first 3 months, first 6 months, first year, etc.). This will mitigate for any transparency problems with account services if you choose a self-storage unit.
No matter what option you choose, Atlantic Coast is here to help with the complexities that moving and storage may bring your way! No matter what you are storing, it should be safe and sound in your storage unit or crate. Stay tuned for next month's blog, Spring Cleaning Should Start with Your Storage Unit, for the best tips and tricks to spring cleaning your self-storage unit!
*Prices and information may vary dependent upon the specific storage unit provider.