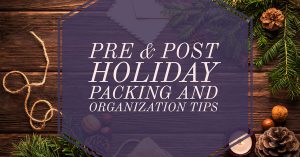 It's the most wonderful time of the year! But, breaking out the holiday decorations may lead to a few unwanted holiday headaches. Here's how to unpack, decorate, re-pack and store your holiday goods to stay cheery and bright throughout the entire season.
Unpack: Whether your holiday decor is in the junk closet, crawl space, or attic, it's time to put on those old t-shirts and sweats and retrieve them. Once you've gotten your items out, give them a proper look through. Discard of any broken or unwanted decorations. Try swapping well-conditioned, unwanted decorations with family members or friends. Trading items will keep your holiday cheer looking fresh from year to year, without breaking the budget. Who knows, this could be your new holiday tradition!
Storage: Make sure that your holidays goods are stored in the correct containers. From plastic containers, ornament storage containers, and storage reels that keep your lights from being tangled, there are a ton of storage items to choose from. The internet is truly a wonderful place to search for creative and clever holiday storage items. If you don't have the extra cash to spend on ornament containers or storage reels for your lights, try using an empty egg cartons, pieces of cardboard or empty wrapping paper tubes.
Repacking: We've all been there. The end of the season comes to a close and we crazily repack our items and just shove the boxes back into the attic and forget about them until the next holiday. It can be stressful and frustrating to sift through piles of other boxes as we search for our leprechaun or Valentine's Day decor.  Color coding and/or labeling your containers before storaging them away for the year will set you up for success the next time you search for specific decorations.
Extra Tidbits: If you're super organized, you can label each box by holiday and number. Create a table in a journal that details the box, with holiday and number and a short description of the contents of the box. Keep this notebook in your bookcase or somewhere accessible for safe keeping.